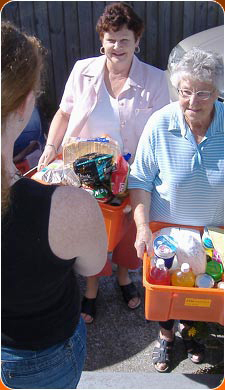 HOW DO I GET A FOOD PARCEL?
Firstly you need to ring 0800Hungry (0800 486 479). This is a free phone line and operates at no cost to you even with a cell phone with no funds. You will then be asked some brief questions regarding your address and the number of people living in your house. We will then organise a deliverer to bring the food to your home. Most often the food parcel will not come that day as we are dependent on volunteers drivers to service the 32 areas we in Christchurch we cover. But it will happen. The You must be at home to receive your food parcel. At no stage will any individual be able to source food directly from the warehouse.
WHAT INFORMATION DO I NEED TO SUPPLY WHEN ASKING FOR A FOOD PARCEL?
We do not require details of your income or bank account. Neither do we need a letter from WINZ or a referral from any other agency. But we do need to know how many people are living in your home to make sure that you are supplied an adequate amount of food. We also cater for pets and carry baby and feminine products so let us know if you need these items.
IS THERE A CHARGE FOR THE FOOD?
There is no charge for the food, however, we do ask for a $5.00 donation for every food parcel received. This is a requirement of our service.
I AM NOT A BENEFICIARY BUT AM IN NEED OF ASSISTANCE. IS YOUR SERVICE AVAILABLE TO ME?
0800 Hungry supplies food to anyone and everyone. We recognise that anyone can get into hardship at anytime and we are here with food assistance if that should happen to you.
HOW MANY FOOD PARCELS CAN I RECEIVE?
We realise that in the majority of cases 1 food parcel is not going to relieve a situation. At some stage though, we will require you to seek budgetary advice. If you fail to have your assessment or become dishonest about your situation then the food parcels will stop until this requirement is met. Your budget service will report back to us and recommend a parcel programme which will continue for as long as required, but you must continue to work with that budget service to continue to qualify. As with the majority o fthe other food banks in Christchurch we now have a maximum of food parcels you may receive from us in any 12 month period. Remember always! 0800 Hungry will provide you with a hand up, not a hand out.
I AM NOT IN NEED OF ASSISTANCE BUT WOULD LIKE TO CONTRIBUTE TO WHAT YOU ARE DOING. HOW CAN I HELP?
0800 Hungry is always grateful for donations of food and finances, and we have many volunteer opportunities available in our warehouse. If you would like to contribute to any of these areas then please phone Nicky on (03)3847 842. A prayer meeting for 0800 Hungry is held once a week and we would welcome more participants.